(Originally posted by Shari Rudolph of Good360.org on October 24th.)
At Good360, our mission is to transform lives by making it easy for corporations to donate critically needed products, which empowers nonprofit organizations to serve their people better.
One of our most impactful corporate partnerships has been with Tempur Sealy International. Together for more than a decade, we have supplied communities in need with more than 45,000 new mattresses, worth millions of dollars at retail.
Many of these donations have come in times of disaster. For example, we worked with Tempur Sealy to fulfill their commitment to donate $1 million worth of product to help survivors of Hurricane Harvey. We also collaborated with the company to distribute 100 mattresses in South Carolina after Hurricane Florence.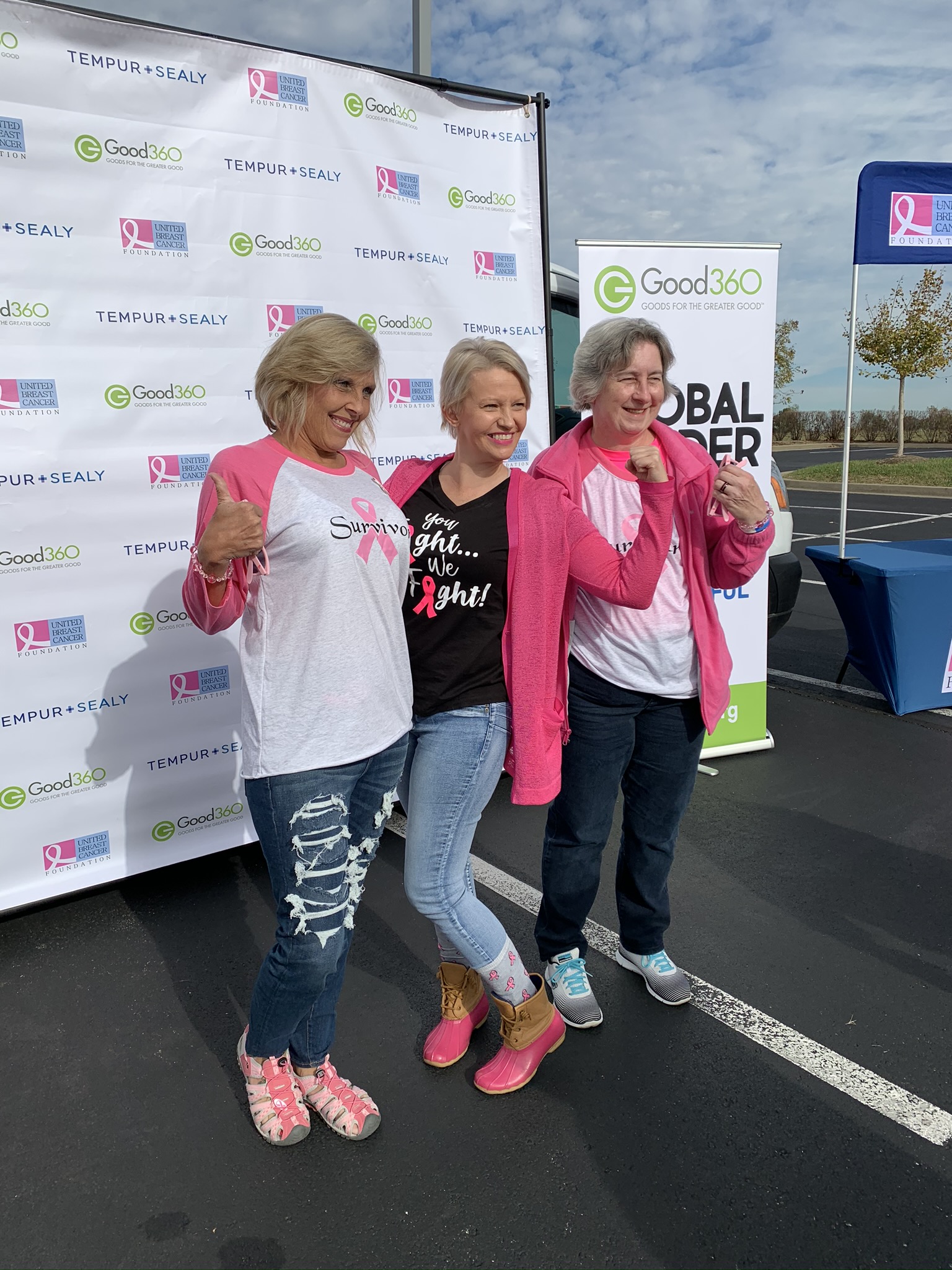 This past weekend, we teamed up again with Tempur Sealy and the United Breast Cancer Foundation (UBCF) to provide more than 80 mattresses to breast cancer patients and survivors. For Tempur Sealy employees, this was an especially touching moment because the donation event took place at their own headquarters in Lexington, KY.
For the breast cancer patients and survivors, the mattresses were a godsend. When you are battling cancer and fighting for your life or in the midst of recovery, sleep doesn't come easily.
In fact, most patients undergoing chemotherapy experience temporary sleep disruption and nearly 60 percent have chronic sleep problems. Sleep disruption can be the cause or the consequence of conditions such as stress, post-traumatic stress disorder, depression and fatigue.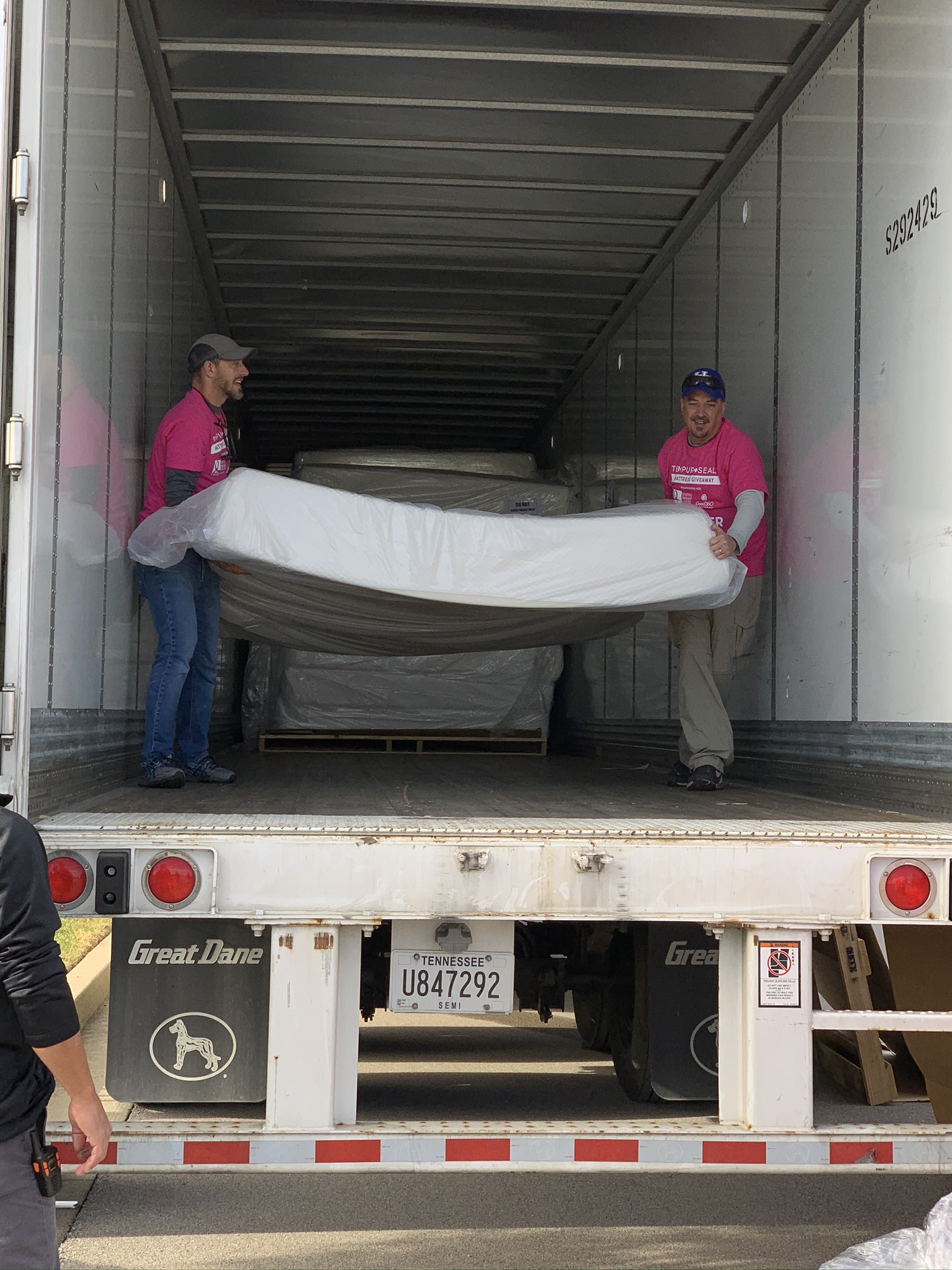 A high-quality mattress such as the ones that Tempur Sealy manufactures can be a prohibitive expense for a family faced with mounting medical bills. At the donation event in Lexington, recipients took home Tempur-Pedic mattresses at no cost. UBCF also handed out its signature Pink Bags filled with items such as clothing/accessories, hair care and make-up.
"The Tempur Sealy and UBCF collaboration has made such a positive impact on the breast cancer community, and events like these are a perfect union because we get the right goods to the right people at the right time," said Good360 CEO Matt Connelly. "Long-time corporate partners like Tempur Sealy truly value the importance of purposeful giving, so much so that it becomes part of the company culture, and we are honored to help get Tempur-Pedic mattresses to those who are dealing with this terrible disease."
UBCF serves as one of Good360's Community Redistribution Partners. But unlike other typical CRPs in our network, the organization doesn't operate a warehouse where nonprofits in the area can go and find supplies to help them run their organizations better. Instead, the donations obtained from Good360 are given out at special events geared for breast cancer patients such as the one in Lexington. UBCF distributes donations through giveaways all across the country so they can connect with different breast cancer communities.
"It is a privilege to work with Good360 and UBCF provide our high-quality Tempur-Pedic mattresses to those affected by breast cancer," said Rick Anderson, Executive Vice President, Tempur Sealy International and President, North America. "The trusted Tempur-Pedic mattress brand offers the comfort and support necessary to promote a good night's sleep, something that is vitally important to the healing process and improving the quality of life for those touched by breast cancer."
UBCF Executive Director Stephanie Mastroianni added, "Lexington called and UBCF answered! We are so happy to bring this awesome Tempur-Pedic Mattress and Pink Bag Event to the deserving women and men of Kentucky through our partnership with Good360. The gift of sleep is truly priceless and UBCF is honored to provide this gift to those in need."